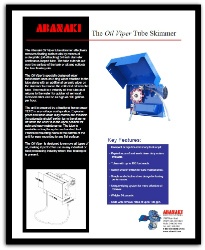 The Abanaki Oil Viper is a dependable and effective means of removing floating surface oils. The oleophilic tube extends out over the surface of the tank or pit and collects the unwanted oils. Key Features of the Oil Viper are:
Tubes with up to 100 foot reach.

Compact design fits almost any tank or pit.

Units with removal rates of up to 100 gph.
Simply fill out the form for direct access to the brochure.