OIL BOSS VERSION B
Cut coolant costs by removing more tramp oils with new Oil Boss© (Version B) oil skimmer.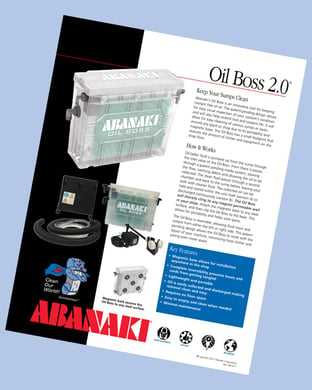 The new Abanaki Oil Boss (Version B) oil skimmer provides cost-savings by removing oil contamination, prolonging the life of the coolant. Our patent-pending Oil Boss (Version B) is designed:
For machines requiring a higher than normal amount of tramp oil removal.

To remove and discharge the tramp oil constantly.

To operate unattended using a specially-designed discharge facilitator, automatically discharging the tramp oil as it is collected.

To eliminate the need for manual draining of the collected waste oil.
Simply fill out the form and get the latest information.