The Abanaki Model 8 is a dependable and effective means of removing free floating oil from water and water-base solutions. In some cases, skimming by itself will reduce oil to an acceptable level of water purity. The unit can be used:
1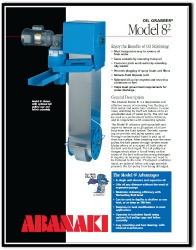 . As a pretreatment before filtration
2. In conjunction with coalescing systems.
Simply fill out the form for direct access to the brochure.