COOLESCER WITH CHIPSTOP FILTER BROCHURE REQUEST
Thank yo

u for asking for our Coolescer with ChipStop Filter Product Brochure.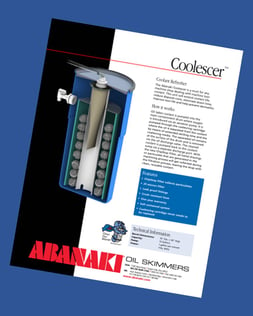 The Abanaki Coolescer with ChipStop Filter is a must for any machine shop dealing with machine tool coolant.
This unit will extend CNC coolant life, reduce disposal costs, eliminate down time, improve tool life and help prevent dermatitis.
The ChipStop filter will collect particulate to keep your coolant cleaner.

Simply fill out the form for direct access to the brochure.