CHILLYBITS QUOTE REQUEST
Thank yo

u for asking for a quote on our ChillyBits.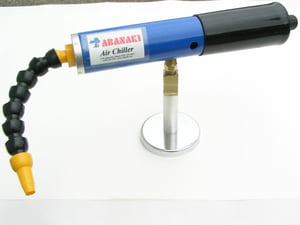 The ChillyBits air chiller uses compressed air to produce cold air to directly cool bits and tooling during machining operations. It eliminates mist cooling, doesn not use freon, has a magnetic base for easy mounting, extends tool life, and has an adjustable tip for precision tooling.

Simply fill out the form and a sales representative will contact you with your quote.