Thank yo
u for asking for our Tote-It Portable Oil Skimmer Product Brochure.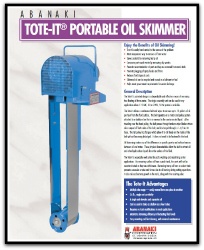 With it's patented design, the Tote-It oil skimmer is a dependable and effective means of removing oil from water. The single assembly unit can be used in any application where 115 VAC, 60 Hz power is available. The Tote-It belt oil skimmer utilizes a continuous belt and wiper to remove up to 12 gallons of oil per hour from the fluid surface.

Simply fill out the form and you will have immediate access to the brochure.