Thank yo
u for asking for our Mighty Mini Oil Skimmer Product Brochure.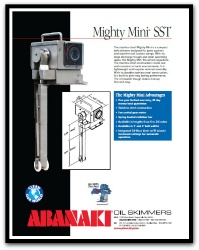 Abanaki's Mighty Mini oil skimmer is the ideal solution to unwanted oil in coolants and parts washers. It helps extend the life of coolant and wash water! The Mighty Mini can remove 1 to 2 gallons of medium weight oil per hour. Its stainless steel construction enables it to operate in harsh chemicals and heat while its integrated timer lets it run only when needed.

Simply fill out the form for direct access to the brochure.